Boo'd Up – Ciara & Future Rock The 2013 MTV VMAs Red Carpet… [PHOTOS]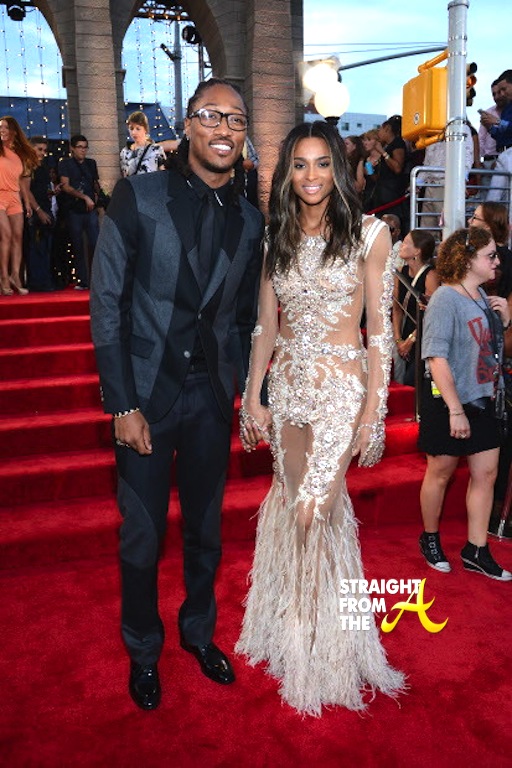 Cute couple
Ciara
and
Future
hit the red carpet of the 2013 MTV Video Music Awards looking haute last night! (August 25, 2013).
CiCi, who earned an MTV VMA nomination for her 'Body Party' video in the category of 'Best Choreography' rocked a couture Givenchy gown while her boo, Future got is 'grown man' on in Alexander McQueen.
In case you were wondering why she was there, Ciara earned an MTV VMA nomination for her 'Body Party' video in the category of 'Best Choreography' but unfortunately, she lost out to Bruno Mars' "Treasure" video.
While I'm sure it was just an honor to be nominated, Ciara certainly looked like a winner in her see-thru designer gown.

HUNY, CIARA WENT & DUSTED OFF BEYONCE'S OLD DRESS FROM HER "DANGEROUSLY IN LOVE 2" TOUR!
More photos of the cute couple below…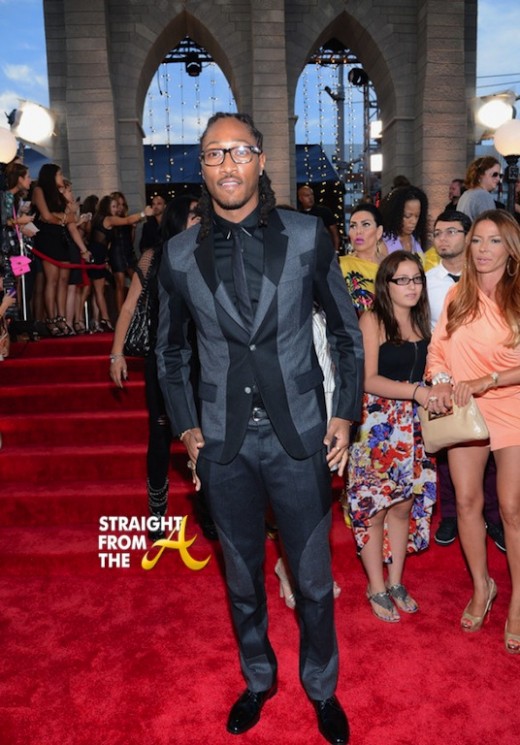 Such a handsome guy that cleans up so well, with an
'all black' everything in McQueen…
(thanks to Ciara turning this hoodlum into a sophisticated gent)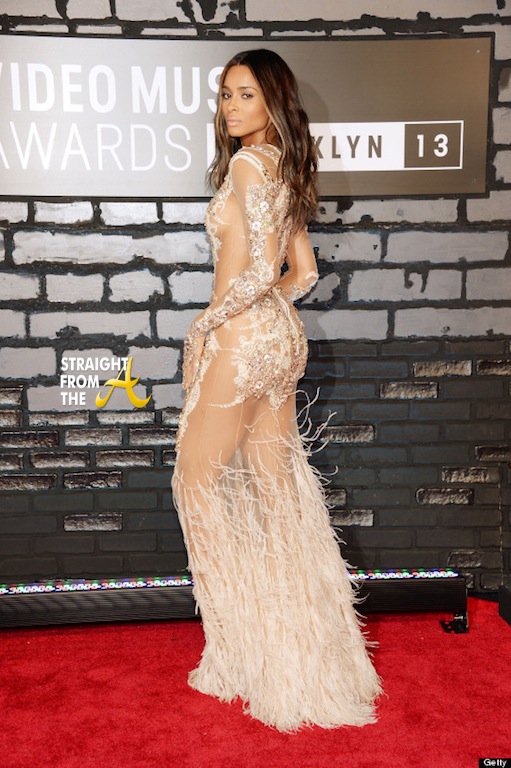 My 2Centz: 1). I thought that Future & Ciara looked great at the awards & I think they make a great couple. 2). Ciara has truly cleaned Future up completely, not just physically but mentally. It looks like Ciara has taught him how to be a man when it comes to learning how to treat a woman right (we all know how some black guyz that grew up in the hood w/a single mom can sometimes grow up rough, and not knowing how to be a gentlemen & love & treat woman w/respect. So I think Future learns alot from Ciara when it comes to: the music industry, loving someone, being respectful to women & knowing how to act in public rather their at the VMA's, BMI awards or the BET Hip Hop awards, etc). 3). In public Ciara has trained Future majorly, at the VMA's Ciara just had to give Future 1 look & he knows what that means; he knows when to take pics w/her & when to allow her to take some on her own, when to grab her hand & help her walk without tripping. Which he is suppose to do, that's what real men do for their woman & I bring that up because I noticed that while watching the behind-the-scenes live access at the VMA'S I saw alot of things. For ex: We all know that eventhough the rapper A$AP Rocky is in a relationship w/beautiful model; Chanel Iman & still very young but I don't know if A$AP Rocky was: just very excited about being at the awards, drunk &/or high, or just not concerned w/his gurlz feelings all nite at all. I mean eventhough he planted a huge awkward kiss on her & showed PDA only when the paps were taking pics, he just wasn't being gentlemen like & Chanel looked like she was not having fun w/her boo at all (and the fact that A$AP Rocky's ex-Iggy Azalea wasn't just in the building but sitting not to far, as well as his rumored boo-thang; RiRi was in the building. And who knows he probably was laying it on thick to make 1 or both of the gurlz jealous. Anywho, you'll understand the rest in the next blog what I'm talking about). But yea, A$AP was being rude & talking to the homeboys over Chanel Iman, would leave her w/the homies numerous times & wouldn't hold her hand to help her walk down the stairs in those high heels w/that long beautiful dress. What if she would have felled? He would also walk ahead of her, as if they weren't even together & if that was the case him & the homies should have went together. I don't know how long their going to last & the only thing I could think of is the fact that this pretty, rich, successful, young, model could be with any man in the world, so why a wild, crazy, dnt give a dam guy like A$AP? But us good gurlz do fall for the bad guy every now & again eventhough we know it ain't gonna last & is no good for us!
FULL 2013 MTV VMA'S, ENJOI!